Neighbourhood characteristics are linked to mental health in older age. Although effects might differ across countries, the majority of available studies are from a handful of Anglo-Saxon countries. Using data from 15 European countries and the United States, we showed that country-level social, political, economic and environmental characteristics explained differences in how neighbourhood influenced depression.
Depression, local neighbourhood and macro-level context
Depression is a common mental disorder with substantial disability and economic burden worldwide. More than 10% of adults aged 50 years and older present depressive symptoms with an even greater proportion of the population suffering in older age groups. Ageing is often linked with functional decline and decreasing mobility, restricting older adults more and more to their residential area. As older adults spend more time in their own neighbourhood, social and physical features of the residential area become increasingly important.
Signs of neighbourhood disorder, such as crime, vandalism and exposure to rubbish, are often thought to indicate disorganisation and problems in the residential environment. Living in deteriorated and unsafe neighbourhoods may increase the risk of developing depression either by being directly exposed to crime and violence, or – in the absence of exposure – by elevating the level of social stress and fear among residents. On the other hand, positive aspects of neighbourhoods such as social cohesion – which is often characterised as a sense of community, help and support among neighbours – have the potential to buffer the effects of stress and contribute to healthy ageing. Whereas both neighbourhood disorder and social cohesion can be linked to mental health problems in older age, available evidence utilising longitudinal data with repeated measurements overwhelmingly originates from a few Anglo-Saxon countries.

Neighbourhoods are situated within macro-level environments capturing larger geographic areas such as local authorities, counties or even countries (Figure 1). Policies, as well as social, economic and environmental characteristics of macro environments can affect citizens' life and health, and also shape the physical and social characteristics of local communities, where people live and age. Although it is possible that the effect of neighbourhood on depression can be modified by macro-level indicators, our knowledge on this is very limited. It is an important question, as both local and macro-level environments are modifiable, presenting opportunities for improving population mental health and contributing to healthy ageing.
Neighbourhoods influence mental health among older adults
In our recently published paper in the American Journal of Epidemiology, we investigated the associations between neighbourhood disorder, lack of social cohesion and depression among adults aged 50 and over across 16 high-income countries. Longitudinal information on perceived neighbourhood characteristics and depressive symptoms across three ageing cohort studies (ELSA, English Longitudinal Study of Ageing; HRS, Health and Retirement Study; SHARE, Survey of Health, Ageing and Retirement in Europe) were utilised. An Individual Participant Data (IPD) meta-analysis on 32000 older adults were carried out. Results showed that living in an area with significant neighbourhood disorder increased the chance of developing depression, and so did lack of social cohesion. If people were already in retirement, effects became stronger.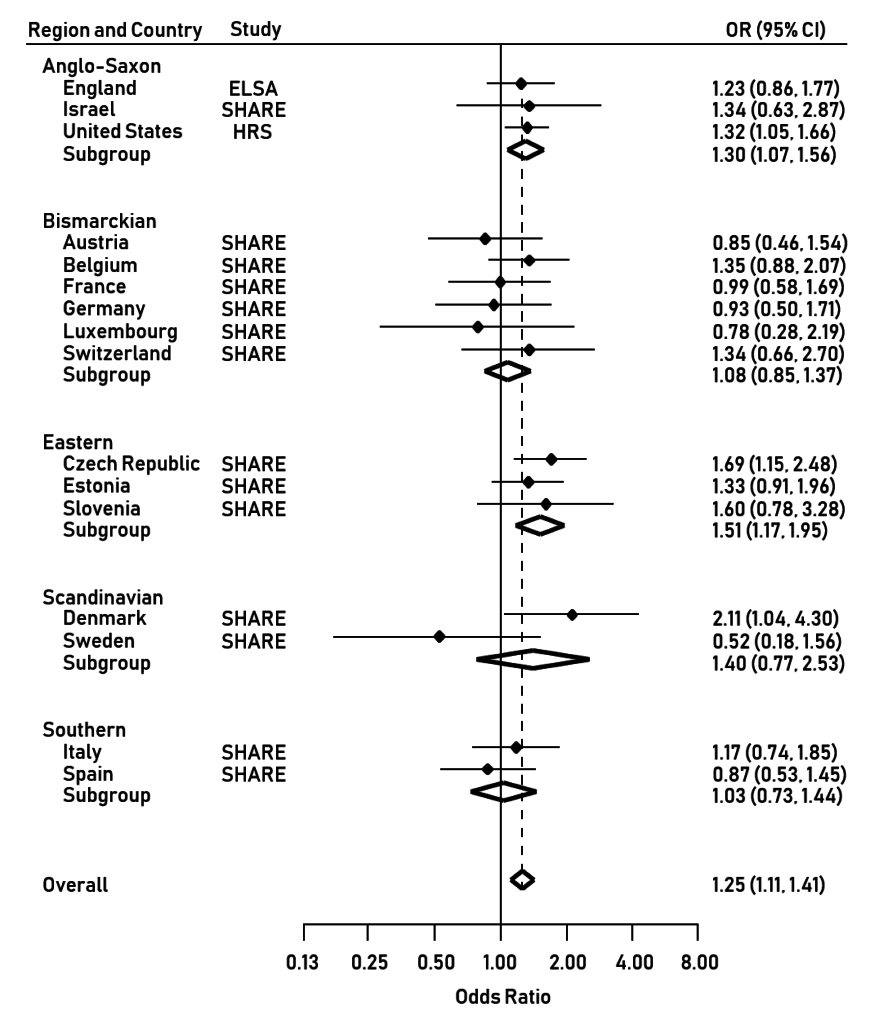 Neighbourhood effects differ across countries
The magnitude of the associations varied between neighbourhood disorder and depression (Figure 2), and lack of social cohesion and depression (Figure 3) across the 16 included countries. Using country-level indicators extracted from the World Bank (https://data.worldbank.org/) and from the OECD Databases (https://data.oecd.org), we aimed to explain country-level differences in neighbourhood effects.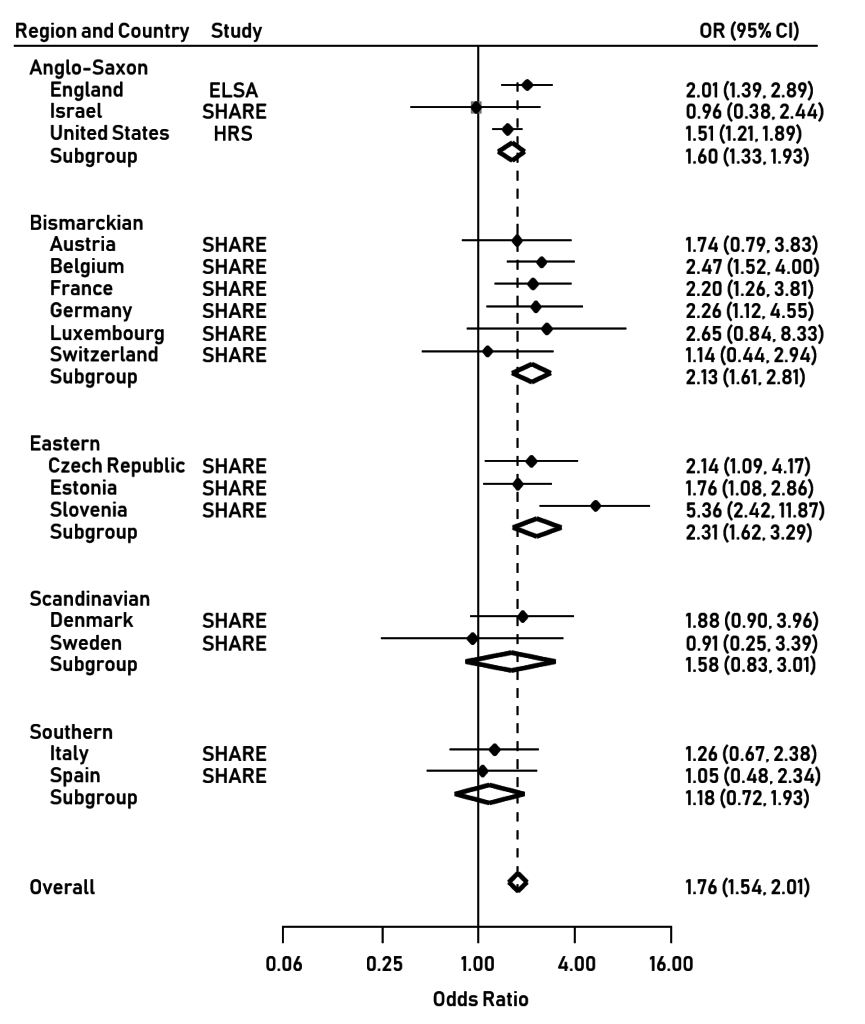 Amongst others, we found that in countries with higher pension spending, the adverse effect of neighbourhood disorder on depression was buffered for individuals already in retirement. It is plausible that by providing material resources, more generous welfare states equip older people to deal with stressors arising from less safe and deteriorated residential neighbourhoods.
In countries with higher population density, lack of social cohesion was more detrimental for mental health among the elderly. Particularly in the oldest age groups where limited mobility is likely more present, neighbours can be an important source of social and emotional support. Therefore, in countries where people live closer to each other, not having proper social ties to neighbours can lead to social isolation and higher risk of developing mental health problems.
In more egalitarian countries with smaller social inequalities between the rich and the poor, lack of social cohesion had increased negative effects on mental health. While social capital and better social organisation are more common in these countries, absent community ties or low levels of support between neighbours might violates expectations; so that the discrepancy between expectations and perception leads to significant distress.
Macro-level context and policy recommendations
Understanding how larger context can influence mental health inequalities across neighbourhoods has the potential to inform policy, and provide more tailored recommendations. As mentioned earlier, neighbourhoods are modifiable, but the larger context should be taken into consideration when developing interventions. For example, tackling crime and vandalism in countries with lower pension spending would be particularly beneficial for mental health, as older people has less material resources to protect themselves from the negative effects of neighbourhood disorder. Supporting social ties and improving social capital in densely populated areas may stronger contribute to healthy ageing and lead to better mental health among older adults.
About the authors:
Gergő Baranyi, Postdoctoral Research Associate in Health Geography, University of Edinburgh, Centre for Research on Environment Society and Health (CRESH)
Jamie Pearce, Professor of Health Geography, University of Edinburgh, Centre for Research on Environment Society and Health (CRESH)
The article is based on:
Gergő Baranyi, Stefan Sieber, Stéphane Cullati, Jamie Pearce, Chris Dibben, Delphine S Courvoisier, The Longitudinal Association of Perceived Neighborhood Disorder and Lack of Social Cohesion With Depression Among Adults Aged 50 and Over: An Individual Participant Data Meta-Analysis From 16 High-Income Countries, American Journal of Epidemiology, kwz209, https://doi.org/10.1093/aje/kwz209
Gergő Baranyi, Stefan Sieber, Stéphane Cullati, Jamie Pearce, Chris Dibben, Delphine S Courvoisier, Response to Commentary, American Journal of Epidemiology, kwz208, https://doi.org/10.1093/aje/kwz208